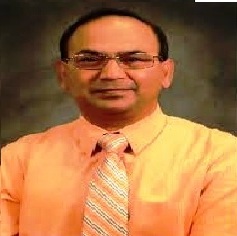 Ganesh C. Bora
---
M.Eng. Ph.D. Associate Professor, Precision Agriculture and Machinery Systems Dept. of Agricultural and Biological Engineering Mississippi State University, Mississippi State, MS 39762 Tel: +1- 662-32
EDUCATION
Ph. D.: Biological and Agricultural Engg., Kansas State Univ, Manhattan, KS, USA (2005)
M. Eng. Agriculture Machinery and Management, Asian Institute of Technology, Bangkok, Thailand, (1997)
PG Diploma Human Res Mgt, Indira Gandhi National Open University, New Delhi (1992)
B. Tech. Agricultural Engineering, College of Agricultural Engineering, Jawaharlal NehruAgricultural University, Jabalpur, India (1988)
APPOINTMENTS
Associate Professor, Fall-2016 – Present, Agricultural and Biological Engineering, Mississippi State University (MSU), Mississippi State, MS.
Interim Director,2010 – Summer 2016,Bio-Imaging and Sensing Center, NDSU.
Assistant Professor, Fall-2008 – Summer 2016, Agricultural and Biosystems Engineering, North Dakota State University (NDSU), Fargo, ND.
Lead Faculty 2007 – 2008, Precision Agricultural Technology Program, Oklahoma State University (OSU-OKM), Okmulgee, OK.
Post Doctoral Associate, 2005 – 2007, Mechanical Harvesting/Precision Agricultural Technologies, Citrus Research and Education Center, University of Florida, Lake Alfred, FL.
Graduate Research/Teaching Assistant, 2000 – 2004, Biological & Agricultural Engineering Department, Kansas State University, Manhattan, Kansas.
Program Officer, 1997 – 2000, Continuing Education Center, Asian Institute of Technology (AIT)(Renamed as AIT – Extension), Bangkok, Thailand.
District Agricultural Engineer1988 – 1996, State Department of Agriculture, Assam, India.
RESEARCH AWARDS AND SCHOLARSHIP
2012 American Society of Agricultural & Biological Engineers (ASABE) Superior Paper Award
Nominee for 2012 College of Agriculture Food Systems and Natural Resources "Best Teacher of the Year", NDSU
2005 Graduate Student Research Award from ASABE in recognition of Outstanding Achievement in Written and Oral Competition: Second place in PhD category.
2004 AE50 Award, from ASABE for the variable rate anhydrous applicator developed as part of my doctoral study, marketed by Capstan Ag Systems, under brand name of N-Ject.
RECENT PROJECTS (Last 5 years)
Evaluation of in-field-crop sensors for variable rate nitrogen application and yield prediction in corn. PI. Mississippi Corn Promotion Board. March 2017 – February 2018.

Development of a Processing Tool for Aerial Imagery and Sensor Data and Delivery Systems to End Users in Precision Agriculture. PI. Mississippi Agricultural and Forestry Experiment Station. January – December 2017.

Seed singulation for precision planting of sunflower to manage good stand and plant population. PI. National Sunflower Association, Mandan, ND, 2015-2016 and 2016-2017.

Capacity Building for Climate Change Mitigation through Precision Agriculture. PI. Asia-Pacific Network for Global Change Research, Kobe, Japan. 2013-2015.

Coated, hulled confection sunflower seeds for precision planting, National Sunflower Association, Mandan, ND. Co-PI. 2014-2017.

Study of Technological and Structural Parameters of Device Used for Mulching in the Soil-Plastic Cover in Planting Vegetable Seedlings. A collaborative study (PhD Dissertation Research) funded by Kazakh National Agrarian University, Almaty, Kazakhstan. 2015-2017.

Development of a Low-Cost Applicator for Urea Briquettes funded by International Fertilizer Development Center – USAID. 2013

Whole-fieldcomparison of soybean production using strip till, conventional till, and no-till grown on wheat and corn stubble. ND Soybean Council. 2011-2013.
RECENT and SELECTED PUBLICATIONS
G. C. Bora. 2017.Big-Data Analytics and Use of Unmanned Aircraft Systems (UAS) in Crop and Nutrition Management. 3rd Intl. Conference "New Trends on Sensing- Monitoring-Telediagnosis for Life Sciences; 7 – 9 Sep, 2017, Bucharest, Romania. (Keynote Speaker).
G. C. Bora. 2017. Big Data Processing Tool for Aerial Imagery by Unmanned Aircraft Systems (UAS) and Delivery to End Users in Precision Agriculture. Presented at NASA Academy of Aerospace Quality workshop at Huntsville, AL. October 13, 2017.
Hao, Y., T. Cui, G. C. Bora, D. Zhang, J. Wei, X. He, M. Wang and L. Yang. 2017. Development of an instrument to measure planter seed meter performance. Applied Engineering in Agriculture, Vol. 33(1): 31-40.
Subhashree S. N., S. Sunoj and G. C. Bora*. 2017. Quantification of browning in apples using color and textural features by Image Analysis. Food Quality and Safety, 2017, 00, 1-6. doi:10.1093/fqsafe/fyx021.
Subhashree, S. N., C. Igathinathane, G. C. Bora, D. Ripplinger and L. Backer. 2017. Optimized location of biomass bales stack for efficient logistics. Biomass and Bioenergy 96 (2017) 130-141.
Wiesenborn, D., H. Sidhu, E. Monono, and G. C. Bora. 2017. Coated Confection Sunflower Kernels for Precision Planting. 2017 NSA Research Forum, January 11, Fargo, ND.
Z. M. Khazimov, G. C. Bora, K. M. Khazimov, and M. Z. Khazimov. 2014. Modelling of the Motion of Free Convective Drying Agent in Plastic Helio Dryer. Journal of Engineering Thermophysics. Vol. 23, No. 4: pp 306-315.
G. C. Bora, P. Mistry and D. Lin. 2015. Evaluation of sensors for sensing characteristics and field of view for variable rate technology in grape vineyards in North Dakota. Journal of Applied Horticulture, 17(2): 96-100, 2015.
G. C. Bora, S. Bali, and P. Mistry. 2014. Impact of Climate variability on yield of Spring Wheat in North Dakota. American Journal of Climate Change (2014) 3, 366 – 377.
G. C. Bora, J. F.Nowatzki, D. C. Roberts. 2012.Energy Savings by Adopting Precision Agriculture in Rural USA. Energy, Sustainability and Society.2012, 2:22.
G. C. Bora, Mark D. Schrock, Darrell L. Oard, Jeff Grimm. 2011. Performance of a PWM Single to Multifold Outlet System for Variable-rate Anhydrous Ammonia Application. Transaction of the ASABE, Vol. 54(2): 397-402. (2012 ASABE Superior Paper award).