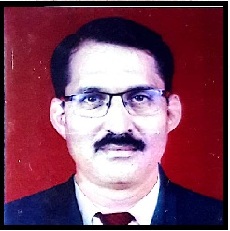 Dr. Prashant Shankar Bodake
---
Account and Finance officer
M.Sc (Agri) Ph. D. in (Agronomy)
Educational Qualification :
B. Sc (Agriculture) in First Class from, Dr.BSKKV, Dapoli, Ratnagiri (July, 1988 to June 1992)

M.Sc (Agri) in Agronomy in First Class from MPKV, Rahuri (June, 1992 to June 1994)

Ph. D. in Agronomy from Indian Agricultural Research Institute (IARI), PUSA, New Delhi (Aug 2006,to February, 2009)

Post Graduate course in Crop Weather Modeling, from Regional Meteorological Training center (RMTC) of World Meteorological Organization (WMO), Bet Degan, ISRAEL under MASHAV International Scholarship (1st March 1998 to 5th April 1998)
Experience (Teaching, Research and extension): 28 years
International /National/state level scholarships/Fellowships :
MASHAV International Scholarship Award under the Ministry of Foreign Affairs, Israel for Post Graduate Diploma in Crop Weather Modelling , RMTC,WMO,Bet Degan , Israel.

Indian Agricultural Research Institute Merit scholarship for Ph.D in Agronomy.

S.J. Jindal Educational Trust, Banglore scholarship for M.Sc (Agriculture) in MPKV, Rahuri
Awards:
Awarded with "Vasantrao Naik Agricultural Scientist Award – 2011".
Awarded with "Recognition Award – 2011" of DWSR, Jabalpur

ISA Best poster presentation award at National Symposium of ISA at PAU, Ludhiana Nov,2014.

Best Poster award in International Rice Symposium at Hyderabad ,Nov, 2015

Best article award of Indian Society of Agronomy at 4th IAC, New Delhi,Nov,2017
Externally Funded Projects:
ICAR: "National Invasive Weed Surveillance Programme" of DWSR, Jabalpur. Principal Investigator

ICAR: DMR, New Delhi Nominated as Nodal officer for TSP activities in Mharashtr

RKVY: "Enhancement of Productivity of Rice " at ZARS, Iagtpuri, Nasik,Co-Co -Investigator (2015)

ICAR-IWMI: "Enhancing economic water productivity in irrigation canal commands" (International collaboration) Co-Principal-Investigator (2017-2019)
Research Publications:
Research Papers in Journal: 23

Full length Research Papers in the Proceedings of: 37 (International: 11 andNational: 26)

Books/Soveneir/proceedings: 13 (International: 2; National: 2; Other:10)

Book Chapters: 01
Member of academic/education related statutory committees :
Board of Studies in Agronomy Mahatma Phule Kishi Vidyapeeth, Rahuri (Member)

Board of Studies in Irrigation, Water Management and Drainage Engineering,

Coordinator and member for Research planning, Research Review Committee

Nodal Officer for Maharashtra state TSP Project of Directorate of Maize research, New Delhi.